By Angela Dell'Isola
A few weeks ago, I was lying lakeside enjoying one of New England 2021's decidedly rare moments of sunshine. My feet were kicked out into the sand behind me, but in my head, I stood in the training halls at the barracks of Orgna, watching male and female warriors of every race and background earn their experience with spears and lances, swords and daggers.
In the real world, a boat sent a small wave rushing up to my ankles. But deep in the pages of this other world - Terra - I followed on booted feet behind Ahna, a dark elf with a dark history and a heavy heart, as she made her way through the throngs of soldiers to the dining hall.
In the real world, a light breeze sent stray hairs dancing across my eyes. In this other world, the smell of spiced soups and chicken momrogis made my mouth water.
In the real world, the sun barely shifted over a handful of short hours. But in this other world, days turned to weeks, and weeks turned to months as I became part of the growing resistance, readying alongside of characters-turned-friends to free the golden kingdom of Bravoure from a most-cruel prince.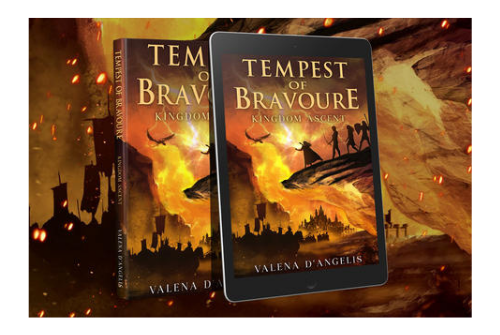 I won't tell you how exactly this journey ended, but I will lead you to where you can find out for yourselves. If you haven't already met her, it is my pleasure to introduce you now to Valena D'Angelis, a mage who yields magic with pen and paper. Tempest of Bravoure: Kingdom Ascent is her 2020 debut novel dedicated to the little kid who dreamed of something different. It's the first in a series of epic fantasy books that combine all the classic elements fantasy readers live for - looming danger, brave heroes, covert missions, dragons! - with some unexpected (and amazing) new spins on this traditional genre. Her world and characters are richly developed but in a succinct, fast-paced way. There are no lulls - no difficult-to-wade through moments of information drop - no excess. She has taken the fantasy genre and trimmed it back to its most bare, most interesting bones, and fleshed them over with modern commentary and diverse characters.
Like I said before, she's a mage. She must be.
I'm currently reading her second book, Tempest of Bravoure: Castaway, and have ordered her third, Tempest of Bravoure: City of the Dead, which releases today, September 1 2021! And it's been my privilege to speak with D'Angelis to learn more about these stories, from her character-creation process, to her unique writing style, to the sources she turns to for inspiration. Read on below!
• • • •
It's clear from your writing that inclusion is very important in the characters you create. What are some of the challenges of writing characters from diverse (and often under- or mis- represented) backgrounds and perspectives? Do you have tips for writers on best practices for creating authentically diverse characters?
One of the biggest challenges in my case was to make sure the descriptions of such characters didn't alienate them too much from the story or the rest of the group. Often enough, we find that authors spend paragraphs describing a diverse character because they want to do it right or put them in the spotlight, which is good, of course, but that can actually have the opposite effect. It can confuse the reader or draw their attention away from the story where they lose track. If the other, more traditional characters are barely described in comparison, it can even feel forced. A tip I'd give would be to make characters from diverse backgrounds special in their actions, personalities, and interactions, not in their descriptions. By doing so, you are putting these characters in the spotlight for who they are. Don't make them too perfect, because nobody is, and most importantly, let them be themselves, account for their differences, think in their shoes. If you are writing an inclusive story, you can always ask for advice from someone you know who comes from such backgrounds. That's what I did, at least. They're always excited to help with the writing of an actual book. Who wouldn't be?
What inspired your modern approach to epic fantasy writing? The contemporary language, the rich and yet somehow succinct descriptions?
I'm not a native English speaker, which is one of the major reasons I took so long to write a book in the first place. I didn't feel confident enough that I had the skills and level of language to do it. Then, somebody came to me and said: "Just do it with simple English! Epic fantasy is usually so complex and long-winded that it's actually boring most of the time." And so, I did it. I liked using more modern language as well because everyone today can relate to it. They instantly get what's going on and don't need to sit through ten more pages to get some action!
As a newly published author, what advice would you give to a writer working on their first book?
Invest in an editor!!! And research where your audience is and how to reach them. Honestly, I made the mistake of publishing too soon and without a launch team. Having a "fan base" before publishing your book, even small, can help gain some visibility on publication day. I hope I'll do better when publishing my next book!
At Story Shares, our goal is to help struggling readers fall in love with the written word. So we're always curious when it comes to avid readers about what book/what experience led them to develop their individual love of books. How did reading become an important part of your life?
When I was a kid, I loved reading Greek and Roman mythology (simplified, of course). I read those stories over and over again, then mythology was replaced by Harry Potter. As a teenager, I must admit that I didn't read much apart from French classics, which we had to read at school! I got back to reading at university, mostly crime thrillers. Nowadays, I pretty much only read fantasy or thrillers. I'm a slow reader, unless I'm really into the story, then I tend to binge-read. The audiobook revolution significantly helped as well, as I can now read and cook/sport/draw at the same time!
We're so excited to have been introduced to your books! What can we and other fans of your work expect from you in the future? More fantasy? A new genre? Any projects in the works or little secrets you can spill?
Right now, I'm juggling two projects. I'm slowly working towards an anthology of short stories set in Terra, to introduce more characters and nations that haven't yet been explored. The second project is a standalone Sci-Fi novel in honor of my passion for the Mass Effect game trilogy. These games are amazing, and I think this story has the potential to be just as awesome. I definitely hope so.
• • • •
Be sure to follow Valena D'Angelis for more exciting updates, and grab a copy of her books here!
Website: www.lenagelis.com